Q: - How did you begin your career as an artist? Have you always made art?
A: Thank you for the questions Bracken, and if you mean when did I start selling art to "pay my bills" as "a career" that didn't happen until 2010 after separating in my marriage and a six-month sabbatical in my basement. The end of that year I emerged with several pieces of art that were quite different than what I was used to painting. A local gallery owner, Ann Degara, took a chance on me with this new process and body of work. I believe that chance gave me the confidence to keep exploring, adapting and paintIng intuitively, which then lead to other galleries accepting me or contacting me. Around the same time I was asked to be in the Trinity show in Atlanta GA, which gave me more exposure. Several articles and a few covers on a few regional magazines launched, I guess what you call " my career"; And I am grateful for them all. But, prior to 2010, I would paint more as therapy, creating maybe 5-10 pieces a year, sometimes those would sell only because I was fortunate enough to be able to show them in our business, but I spent most my time raising two boys and working in our restaurant.
Q: Did you go to school for art or are you self-taught?
A: I studied art in college and receive my degree in 1991, but student loans and the purchase of my first truck left little time to make art because I was waiting tables to survive. Although I studied and learned much in college, I would say my process is self discovered and in a way self-taught.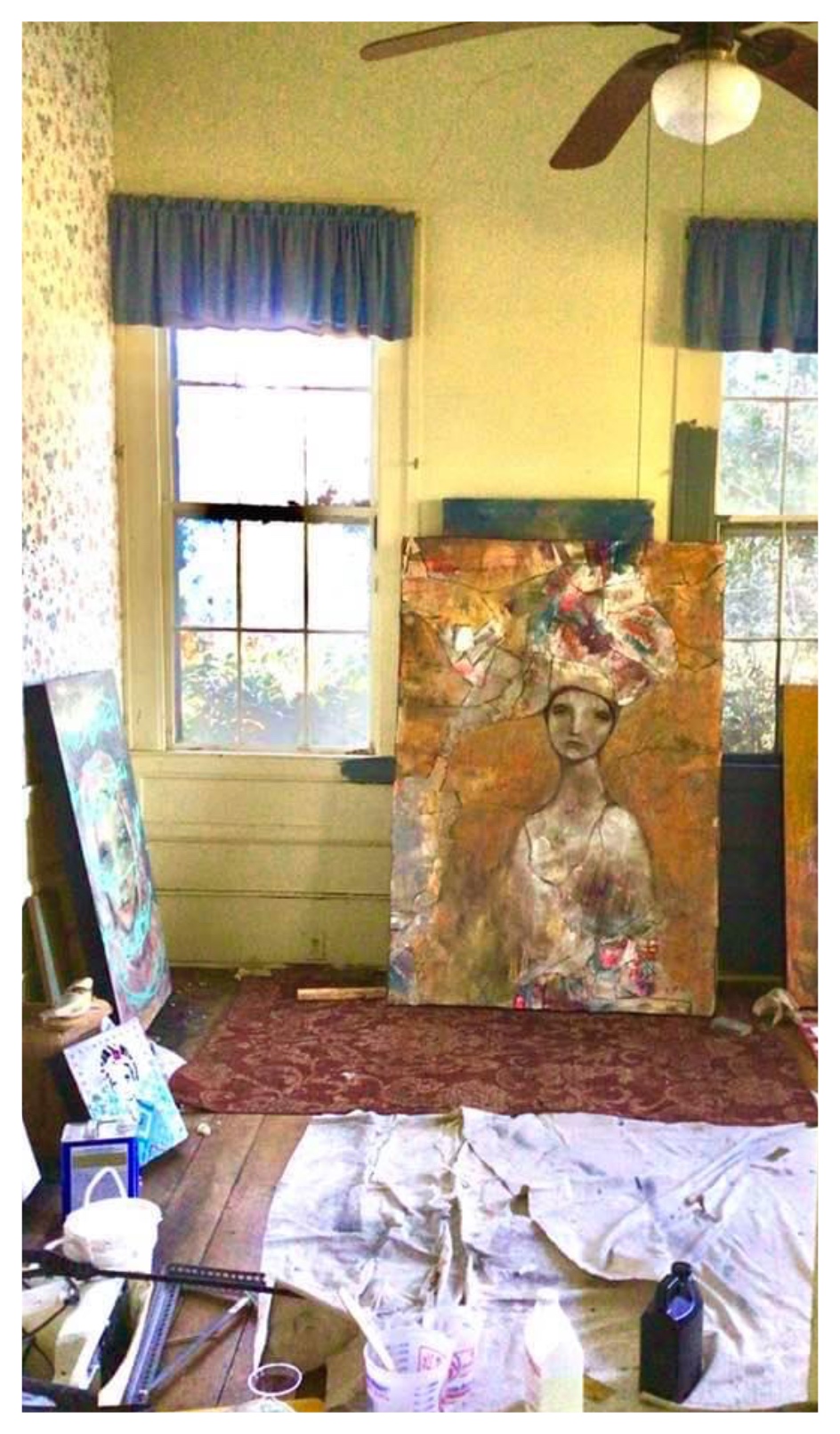 Q: Have you always painted faces and waves or have you explored other territories?
A: My subject matter has changed over the years from doodling in abstraction during college to portrait painting of Women I choose from Photos and landscapes from my own photos I took of Where was living and the roads I drove when delivering my art. So as far as the Faces, The body of work that emerged and 2010 was the beginning of years of intuitive faces and figures. It was there I began to tap into something deeper in myself, to be intuitive and emotional on a personal level, where before I painted someone else's grief or pensive expressions. I have always been drawn to the rawness of the human emotion, especially one who is suffering but resilient. My own life struggles started to reflect in my work and the process of discovering these girls began to heal my pain, which I found therapeutic. The releasing and healing of my demons and my distraught are a product of working through and finding my blessings.
Q: The Muse Within Me is going on now - what brought this show to life? Tell us what inspired you.
A: Fast forward to now and to the latest works created for "the MUSE within me", my first solo show here at Art and light. This body of work was brought to life by the whole idea of letting my inner child speak without limitations, restriction or expectations of a theme, but of the voice crying out to be; tying them together through the act of collage. They are snippets of a moment and emotion I was feeling. The idea of "freedom to allow" inspired this work, to let go of control of what is expected and just let my muse be is how the works came to life.
Q: What is your creative process like? How does a work of art come to life? Many of your pieces have what appear to be words on the under layers, what do these say or how do these guide the piece?
A: I would say Aesthetically they (the words) provide markings that play out later in the composition, but emotionally they provide a soul and a self-awareness of my feelings; an acknowledgment of the start of the creative process. The writings are my journal, a kind of a secret diary of my pain, anxiousness, praise and stated intentions for who I want to be. They often reflect on how I'm going to change my circumstance. I use verses and the words spoken by Jesus in my writings to help me work through these times.
Q:When we first sat down with you and learned about your process back in 2020, you were living on Folly Beach near Charleston. Since then, you have moved - tell us about your new place!
A: Where I have created has change over the years, as to my process is always changing. From my basement in Brevard in 2010, to a rented studio in an old church, to a 32 foot RV trailer, to another basement on the beach, I have always made myself a place to create. I am now painting in a bedroom in a beautiful 1874-year-old home that we just purchased in September this year. The studio set-up is a temporary space until we can make my final studio in one of the old barns on our property.

Q: What inspires you?
A: I am inspired, not only of my own awareness and muse, but the constant flow of art coming from others. I am inspired by texture, the psychology, therapy and act of alchemy. I am moved by a soul that reveals itself through art when one can allow the freedom to let it be. I am inspired by creators that create intuitively, although I have great admiration for realism, I have no desire to paint for skill or perfection, but long to paint to discover and see the beauty In the imperfections and untapped Conscious.I pray I can always share so others may connect to that beauty of the imperfection, the places that heals not only myself but helps others too.